71-year-old avoids jail over horse sex
Published by onlines on December 11, 2009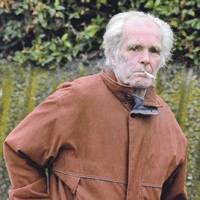 A PENSIONER was caught engaged in a sex act with a horse when the animal's owner drove past and could not believe what he was seeing.
Retired farm worker David Chamberlin was watched as he led the horse towards bushes at the side of a field in Billingham, near Stockton.
The owner pulled over his car and approached, and saw the animal's head being pulled down towards the 71-year-old's groin, a court was told.
Shocked and disgusted, he smacked Chamberlin with a stick, which caused the horse to run off, dragging the grey-haired pervert across the field with it.
Noel Brockbank, prosecuting, told Teesside Magistrates' Court yesterday that the man saw Chamberlin's flies were undone, and called the police.
After being arrested, and confessing, it emerged that Chamberlin has a lengthy history of sexual deviance going back four decades.
In 1970, he was convicted of indecent exposure with intent to insult a female, and in 1983 for two charges of indecently assaulting a girl.
The court heard that in 1987, Chamberlin was convicted of indecent exposure, and two years later for two offences against a boy.
Alex Bousfield, mitigating, told magistrates: "His previous convictions will be a significant factor in how you approach this case.
"He tells me it was a one-off and that he didn't set out to commit this offence when he went for a walk that morning."
Chamberlin, formerly of Brendon Crescent, Billingham, will spend the next four weeks being assessed in a bail hostel in Middlesbrough.
If he is deemed suitable for a long-term stay in a probation hostel, it is likely that the pensioner will be spared a prison sentence by justices.
Chamberlin has been told by his niece – the owner of the house he shared with his 74- year-old sister – that he is no longer welcome there.
Mr Bousfield said: "He accepts his behaviour is not normal.
He did seem to be quite ashamed… and worried about what people would think of him.
"It is disturbing behaviour, it is concerning behaviour. It's the kind of behaviour people don't really know how to take or deal with. There is a mixture of reactions to it – from laughing at it to thinking it is disgusting."
Chamberlin admitted outraging public decency at an earlier hearing, on October 16, and will return to court to be sentenced on December 9.
Translate into 75 languages in ONE SINGLE CLICK. Chat with your foreigner friends and don't worry about the translation .. TRY IT FOR FREE
Tagged with:
David Chamberlin
,
David Chamberlin horse sex
,
David Walter Chamberlin
,
Noel Brockbank
,
Pensioner horse sex
,
Pensioner escapes jail after horse sex
,
Sex act with horse pensioner spared jail