Algerians attack Egyptian firms after football loss
Published by onlines on November 16, 2009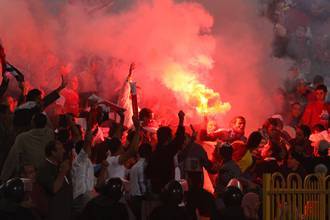 Twenty Algerians injured in Cairo clashes before playoffs
Thousands of Algerians held a spontaneous rally Sunday in the capital Algiers in support of their national football team, which degenerated into attacks on Egyptian businesses.
The rally in central Algiers began with fans chanting "One, two, three, Go Algeria!" as they thronged Air Algeria's city-center offices trying to get tickets to travel to Sudan for the second leg World Cup football qualifying match against Egypt in Khartoum on Wednesday.
But it later descended into violence when fans broke through the metal shutters to smash the window and ransack the offices of EgyptAir, an AFP journalist said.
The offices of mobile telephone company Djeezy, part of the Egyptian telecommunications group Orascom, was also ransacked, the website of al-Watan daily reported.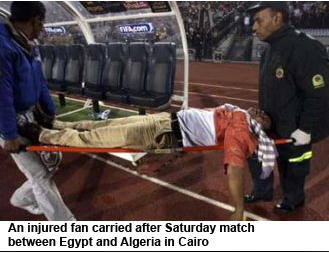 The company also said one of its employees was assaulted at Algiers airport.
Egyptian Prime Minister Ahmed Nazif called his Algerian counterpart Ahmed Owehi on Sunday to appeal for the Algerian government to protect Egyptians in the country, Egypt's official news agency MENA reported.
Egyptian Foreign Ministry spokesman Hussam Zaki said that the Egyptian-Algerian ties are quite strong and would never be affected by any kind of riots launched by fans in both countries.
Zaki denied all the rumors that circulated about the death of Algerian football fans in clashes in Cairo after Saturday's match. "We are now contacting the Algerian security authorities to guarantee the security and safety of all the Egyptians in Algeria," he said.
The Algerian Ambassador to Egypt Abdul Qader Haggar, meanwhile, said that the Algerian security authorities are trying their best to provide all the needed security to the Egyptian businesses operating in Algeria. He denied all the allegations about the death of Algerian fans in Cairo clashes.
Twenty Algerians were injured in clashes in and around Cairo after Saturday's first round match, according to Egyptian police, which Egypt won 2-0 to keep alive its hopes to travel to South Africa next year.
Trouble flared after the game when a group of Egyptian fans stoned buses ferrying Algerian fans away from the stadium, an AFP journalist said. Three Algerian players were injured when stones were also hurled at their bus.
Egyptian and Algerian fans have a long history of violence.
Prior to Saturday's match verbal sparring between the two countries' supporters has reached such a pitch that both governments have issued appeals for calm.
On the internet, Algerian and Egyptian fans have traded abuse, reviving a decades-old, on-pitch enmity that erupted into violent riots during a similar qualifier in 1989, when Egypt won 1-0 to guarantee a place at the Italy finals.
Players clashed on the field after the game and the Egyptian team doctor was partially blinded during the trouble.
Egypt then threatened to pull out of the following year's African Nations Cup in Algeria. They eventually sent a B team and lost all three group games.
The fierce rivals will meet in their playoff in Sudan on Wednesday. The venue, which was favored by the Egyptians, was chosen at a draw at FIFA headquarters. Algeria had asked to play in Tunisia.
Sudan announced on Sunday that it was giving entry visas free of charge to Algerian fans who wish to attend the World Cup qualifier playoff in Khartoum. Egyptians can enter Sudan without the need for any visas.
Algeria had qualified for the World Cup in 1986 while African champions Egypt, who despite being a dominant force on the continent, has not qualified since 1990.
Translate into 75 languages in ONE SINGLE CLICK. Chat with your foreigner friends and don't worry about the translation .. TRY IT FOR FREE
Tagged with:
Algeria Egypt Football world cup