American woman suffers amnesia after having sex with her husband
Published by onlines on November 8, 2009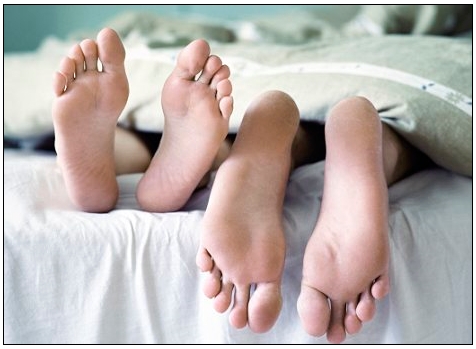 A woman known only as Alice has suffered an attack of amnesia after having intercourse one August morning with her husband, Scott.

Alice, 59, experienced a sudden loss of memory called "transient global amnesia" or TGA one morning immediately after having sex with her husband, reports CNN.
TGA is caused by pressure in blood vessels in the brain, usually from bearing down, and can be triggered by strenuous activities, emotional stress, pain, cold-water exposure, bowel movements, or most commonly, sex, says WebMD.
When you experience TGA your memory of recent events simply disappear, says Mayo Clinic, and you may draw a blank when asked to remember things that happened a day, a month or even a year ago, but still remember who you are and those who are near and dear to you.
In Alice's case things became confusing when after sex they turned on the television which was showing the Beijing Olympics, reports the Telegraph.
According to CNN, Alice asked wonderingly, "Is there an Olympics?" And then after thinking a bit she asked again, "Are you sure there is an Olympics?"
Her husband, Scott said to CNN, "I saw that something was wrong, so I asked her, 'OK, what day is it?'"
When Alice didn't appear to know the answer he asked her who was the current President, to which she answered, "Bill Clinton."
Since it was 2008, her husband became very alarmed, thinking she may have suffered a stroke.
He jumped out of bed, called an ambulance and Alice was taken to a nearby hospital.
It didn't take doctors long to diagnose Alice with TGA.
According to the CNN report, Alice remembered having a headache the night before, and people with a history of migraines and severe headaches are more prone to TGA.
Alice has since regained her memory but still can't remember the sex she had that precipitated the attack.
Alice now tells Scott that he will "have to wait" when she has a headache.
Translate into 75 languages in ONE SINGLE CLICK. Chat with your foreigner friends and don't worry about the translation .. TRY IT FOR FREE
Tagged with:
"transient global amnesia" TGA
,
Alice attack of amnesia after having intercourse
,
Alice Scott amnesia sex
,
American woman suffers amnesia after sex
,
amnesia sex
,
Mind-blowing sex: American woman suffers amnesia after intercourse
,
TGA