Craig Tracy Painted Alive Bodypainting – "South China Tiger"
Published by admin on April 20, 2011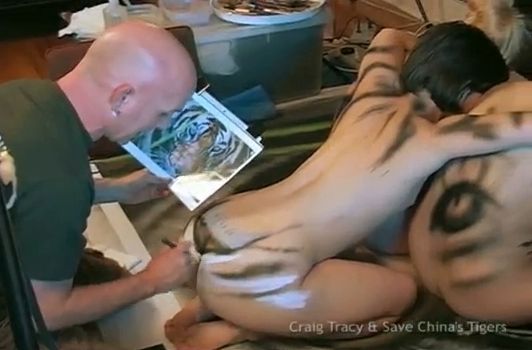 Artist Craig Tracy chose a canvas with a difference for his striking three-dimensional picture of a tiger.
Three naked women spent an amazing 24 hours as his subjects as he assembled his masterpiece to raise awareness about the plight of endangered creatures.
His next project might need to be in aid of sufferers of back pain.
Tracy, 43, from New Orleans, created the breathtaking piece to raise awareness about the endangered animal.
He assembled the women on the floor of his studio and then used paint specifically designed for human skin.
Throughout his career Craig has painted a staggering 400 bodies – including women at the Rio carnival and his home towns' Mardi Gras.
And he admits that he has enjoyed his brush with fame.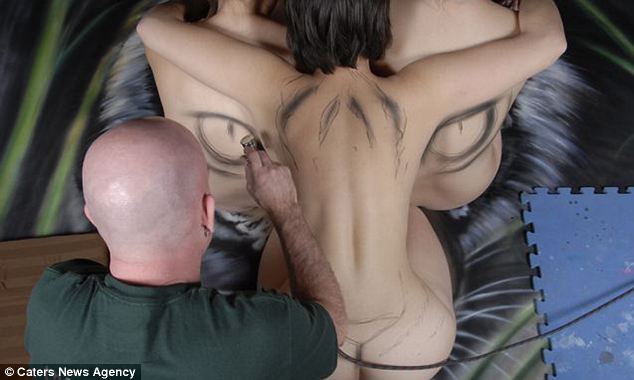 Eyes of the tiger: Craig Tracy marks out the eyes and bridge of the nose as he starts work on his amazing 3D body art illusion of a South China Tiger
He said: 'The rich and famous seem to enjoy my work in due proportion. I have sold some works to them for up to $1,200, but I could never say which ones.
'But it isn't just celebs who love my work, people from all walks of life love it.
'I've never had a negative interaction regarding what I paint or how I paint it.'
The self confessed art nut believes this particular work is his most successful and important of his life.
He added: 'The South China Tiger image is certainly one of my favourite images so far.
'I love what it represents and all of the good that it has done to help save the tiger.'
And Craig admitted that he doesn't struggle to find models willing to appear in the buff for his art – they find him.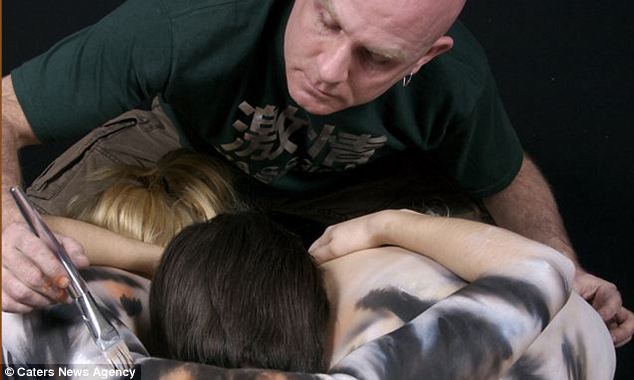 Brush strokes: Tracy has used more than 400 models from his works – and says he never has any trouble finding subjects to paint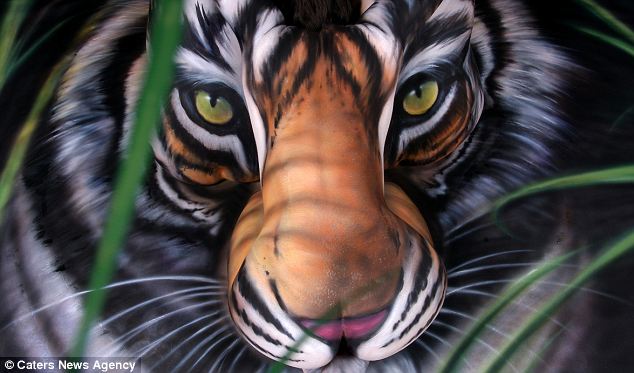 Cunning disguise: The finished article is stunning – and the naked women impossible to distinguish
'All of my models are volunteers. I never use agencies or websites to find them. In fact, they find me.
'Girlfriends that I have had, have had an understanding of what I do and the professional nature of how I paint and create. So I have never had any issues regarding jealousy – I simply wouldn't tolerate it if they did.'
From humble beginnings as an airbrush artist in a local shopping mall at the tender age of 16 – Craig has gone on to set up the world's first art gallery dedicated to body painting.
After graduating from The Art Institute of Fort Lauderdale, he went on to become a freelance illustrator.
But soon decided it wasn't the right career choice for him.
He said: 'I actually hated being an Illustrator. I was so disappointed by just how mind-numbingly boring and lonely it all was.'
The body painter started with just a small amount of face painting before, several years later, he took to painting whole bodies into art works.
Now he owns and operates the first gallery dedicated solely to body painted images – which includes his stunning South China Tiger work inspired by Tom Mangelsen's photograph.
The gallery allows visitors to see firsthand how body painting is done and he personally meets and educates hundreds of people each week in the New Orleans studio.
Translate into 75 languages in ONE SINGLE CLICK. Chat with your foreigner friends and don't worry about the translation .. TRY IT FOR FREE
Tagged with:
Craig Tracy
,
Craig Tracy Art
,
Craig Tracy naked woman
,
Craig Tracy naked women
,
Craig Tracy nude
,
Craig Tracy tiger
,
Craig Tracy video
,
Last South China Tiger - Craig Tracy for Save China's Tigers