28 Chinese workers arrested after Bahrain hostage drama
Published by Waleed Fakhroo on February 28, 2010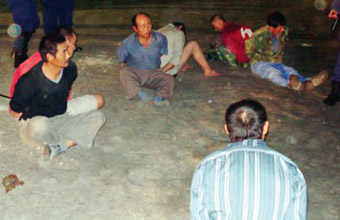 More than 150 men from the state-owned China State Construction Engineering Corporation held their bosses hostage for several hours at a Bahrain labour camp over claims of poor pay and mistreatment.

Police were forced to storm the camp in  Zallaq to rescue nine engineers, architects and foremen locked inside a building after negotiations failed.
Twenty eight workers of the China State Construction Engineering Corporation, thought to be the ringleaders, were arrested by police, reported Gulf Daily News on Sunday.
Two workers and a police officer were slightly injured in the raid and a 39-year-old hostage had to be taken to hospital suffering head and neck injuries after being attacked while being held, witnesses said.
"It was like an emergency situation and there were many police vans, fire engines and ambulances at the scene as if they were preparing for the worst," sources told the paper.
"The workers seemed violent and the police and an embassy official tried to convince them politely that what they were doing was wrong.
"They kept on demanding that these bosses be sent back to China as they were not being paid properly and were being mistreated by them.
"The talk continued for around six hours and then police stormed the camp and rescued them."
Chinese Embassy officials said they were studying the matter. No one was available for comment from the China State Construction Engineering Corporation.
Translate into 75 languages in ONE SINGLE CLICK. Chat with your foreigner friends and don't worry about the translation .. TRY IT FOR FREE
Tagged with:
150 chinese workers bahrain
,
28 Chinese workers
,
Bahrain Chinese workers
,
bahrain police
,
Chinese raid
,
Chinese workers bahrain
,
Hostage drama as 28 held
,
Zallaq
,
Zallaq Chinese workers