BBC newsgirl 'Jane Hill' outs herself as gay in BBC's in-house magazine
Published by onlines on January 1, 2010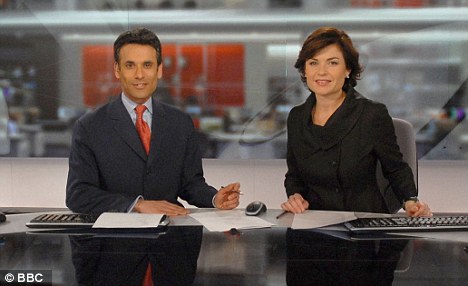 BBC newsreader Jane Hill has outed herself as gay in the Corporation's in-house magazine.
The 40-year-old presenter revealed she was living with her partner Sara and their dog Mavis in an interview with Ariel.
The couple have been together for about a year.
'Everyone has known for years that Jane is gay,' a colleague said.
'She hasn't made a secret of it at the BBC and although she has had other girlfriends over the years, this one seems to be the one.'

Described by one male TV critic as 'severe but sexy,' Miss Hill is much admired for her presentational and reporting skills.
At one point, she even had her own unofficial internet fan club.
According to Richard Kay, Miss Hill dated Strictly Come Dancing winner Chris Hollins in the past. The pair split up some years ago but remain good friends.
Miss Hill started working in BBC local radio at 16 before taking a politics degree at London University.
After graduating from the corporation's regional news trainee scheme, she worked as a producer at Five Live before moving to television.
Miss Hill is now an anchor on the BBC's News Channel and presented Christmas Day lunchtime bulletins.
She has worked on many high profile stories including Hurricane Katrina, 9/11 and the  inauguration of Barack Obama.
However, she describes her hardest job as dealing with the Madeleine McCann case.
'I was there the day after she disappeared and ended up being there for the whole of May,' she told Ariel.
'It was emotionally draining, that lack of resolution.I'm not a parent but I don't need to be one to know how absolutely horrific it must be.'
Miss Hill's lists her interests as the theatre, food and wine and going to the gym.
She admits to being an Archers addict on her BBC profile.
Translate into 75 languages in ONE SINGLE CLICK. Chat with your foreigner friends and don't worry about the translation .. TRY IT FOR FREE
Tagged with:
BBC presenter lesbian
,
gay
,
Jane Hill
,
Jane Hill gay
,
Jane Hill lesbian
,
lesbian