Caught on CCTV: The moment BBC presenter floors taunting yob with his karate expertise
Published by onlines on November 3, 2009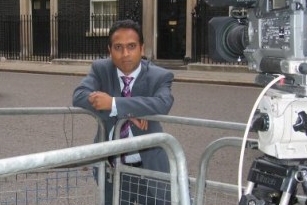 This drunken yob got more than he bargained for when he picked a fight with a BBC presenter who used to be an international martial arts champion.
Reporter Paresh Patel had been followed for half an hour through Manchester city centre by two youths, who subjected him to a barrage of abuse as he attempted to set up a live broadcast.
The North West Tonight journalist had been preparing a report in Sackville Gardens, central Manchester, when a group of drunken louts began harassing him and his cameraman Steve Capstick.
Mr Patel can be seen in the footage punching one of them in the face before kneeing him in the groin after being attacked as he planned a live broadcast from the statue of Alan Turing in Sackville Gardens, following Gordon Brown's decision to grant the computer pioneer a posthumous apology.
Sean Brady, prosecuting,  told Manchester Magistrates' Court that when Mr Patel phoned his studio, two of the group John Nugent, 22, and David McKenna, 27, thought he was ringing the police and started swearing threatening him.
At the sentencing of the pair, Judge David Hernandez said: 'He defended himself, he delivered a blow. I say good for Mr Patel.
'He had no reason to be subjected to that level of abuse and threat by you.'
The CPS spokesperson added: 'The defendants claimed that Mr Patel has threatened them and told had them not to "mess with him" because he was a "Thai boxer" and that he would "sort them out".
'They insisted they were just having a laugh. And that they only picked up the chair so that he could have a sit down.
'Even when they were shown the CCTV footage they came up with the same explanation.'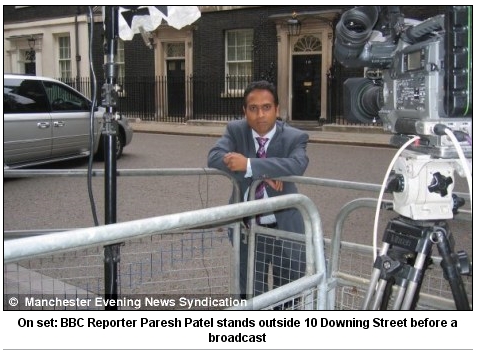 Nugent and McKenna, both from Manchester, admitted charges of affray and assaulting Mr Patel on September 11.
McKenna was giving a community order for 18 months with supervision and 14 hours unpaid work at Manchester Crown Court on October 22.
Nugent was also given an 18-month community order with supervision.
Jodie Anderson, 26, the female who threw the drink over Mr Patel, had previously pleaded guilty to assaulting Mr Patel and was given a suspended six-week prison sentence and ordered to pay him £50 compensation.
In a victim impact statement read to the court, Mr Patel said: 'I am shocked and upset by what has happened. I was trying to go about my business in a peaceful way.'
A spokesperson for the BBC said they were not commenting on the matter as it was a case for the courts.
Watch the video below
Translate into 75 languages in ONE SINGLE CLICK. Chat with your foreigner friends and don't worry about the translation .. TRY IT FOR FREE
Tagged with:
BBC Bruiser
,
BBC Bruiser Paresh Patal
,
BBC Paresh Patel Karate footage
,
BBC Paresh Patel Karate
,
BBC Paresh Patel Sackville Gardens
,
BBC Parish Patel Karate
,
BBC Presenter gang Sackville Gardens
,
BBC Presenter karate
,
BBC presenter Paresh Patel flooring yob kung-fu style
,
BBC Presenter with black belt in Karate thug
,
Black belt BBC man fights off yobs
,
cameraman Steve Capstick
,
central Manchester
,
Paresh Patel punch in the face
,
Paresh Patel drunken thug
,
Paresh Patel black belt in Karate
,
Paresh Patel central Manchester Karate
,
Paresh Patel fight Karate thug
,
Paresh Patel Karate gang
,
Paresh Patel thug
,
Parish Patel
,
Video shows BBC reporter fighting off drunken attackers
,
yob thug Paresh Patel