Charlie Sheen arrested for alleged attack on wife‏
Published by onlines on December 26, 2009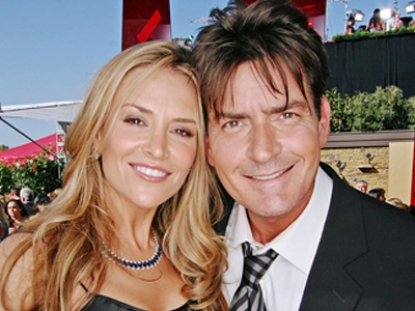 HOLLYWOOD actor CHARLIE SHEEN spent Christmas Day behind bars – after he was arrested on suspicion of assaulting his wife.

The Two And A Half Men star was taken into custody after cops received a 911 call at 8.34am on Christmas morning.
Charlie was arrested on suspicion of Second Degree Assault, Menacing and Criminal Mischief.
The alleged offence took place during a scuffle with his wife BROOKE MUELLER at a house she has reportedly been renting in Aspen, Colorado.
A source close to Brooke, a real estate investor, told celebrity news website Radar Online that Charlie pushed his wife after they began rowing on Christmas morning.
The same source claimed the couple, who wed in 2008 and have nine-month-old twin sons, have been having 'significant marital problems'. But Charlie had reportedly flown to Aspen to spend Christmas with his wife.
The Sheriff's Department spokeswoman said: "Officer Rick Magnuson placed Carlos Irwin Estevez, also known as Charlie Sheen, under arrest for Second Degree Assault – a class four felony, Menacing – a class five felony, and Criminal Mischief – a class one misdemeanor.
"Aspen Ambulance responded to the scene. The victim did not require transport to the hospital."
Under Colorado law, a protection order must be made between domestic violence arrestees and their victims before the arrestee can be released from custody.
Charlie will therefore be held in Pitkin County Jail until he makes an appearance at the County Courthouse.
A date for the hearing has not yet been set.
Charlie also has two daughters – Sam, 5, and Lola, 3 – by ex DENISE RICHARDS and a grown up daughter Cassandra, with PAULA PROFIT.
Translate into 75 languages in ONE SINGLE CLICK. Chat with your foreigner friends and don't worry about the translation .. TRY IT FOR FREE
Tagged with:
BROOKE MUELLER
,
Charlie Shee Christmas jail prison
,
Charlie Sheen
,
Charlie Sheen jail
,
Charlie Sheen Arrested
,
Charlie Sheen Arrested after attacked wife
,
Charlie Sheen Arrested BROOKE MUELLER
,
Charlie Sheen Christmas
,
Charlie Sheen ex DENISE RICHARDS
,
Charlie Sheen X-mas jail
,
Charlie Sheen Xmas Jail
,
DENISE RICHARDS