Cross potatoes for sale on eBay
Published by onlines on January 8, 2010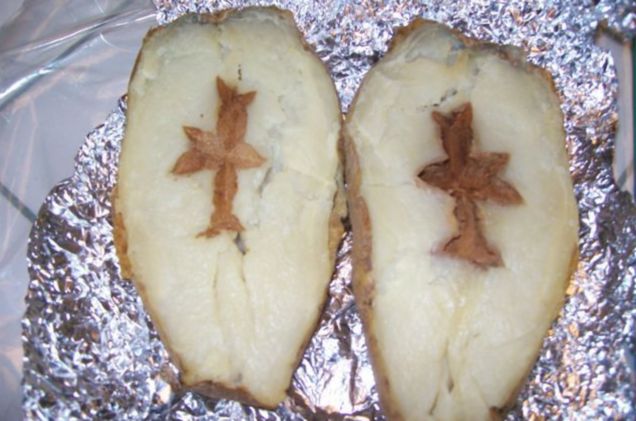 Forget Jesus appearing snackfoods – two independently discovered potatoes with crosses in them have gone on sale on eBay, possibly marking the start of a hot new religious-imagery-in-foodstuffs trend.


One of the holy spuds was found by an Iowa family, while the other by a police detective in Ohio.
Jim Gross of Marion, Iowa, says his wife was peeling their potato on New Year's Eve when she found the cross shape. They listed the potato for sale for eBay under the title 'Religious Potato: Cross Revelation!', with bids starting at a reasonable $2 – which has since risen to $46.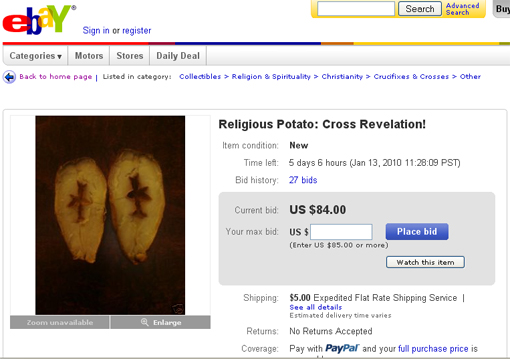 Meanwhile, Detective Dennis Bort of Brunswick, Ohio, says he found the cross in his potato on Christmas Day.
Clearly believing that his theologically-inclined tuber was more valuable than the Grosses' offering, Blort listed his potato for $1,000. He hasn't found any bidders yet.
In the past, collectors have paid big bucks for items deemed to have been blessed by the appearance of a religious symbol, including $28,000 for a partially eaten grilled cheese sandwich with the likeness of the Virgin Mary.
Translate into 75 languages in ONE SINGLE CLICK. Chat with your foreigner friends and don't worry about the translation .. TRY IT FOR FREE
Tagged with:
cross potato
,
cross potato ebay
,
holy potato
,
Jim Gross of Marion potato
,
potato 1000$
,
religious potato ebay