'Hearing' labrador helps mute lad stay in touch
Published by Waleed Fakhroo on January 5, 2010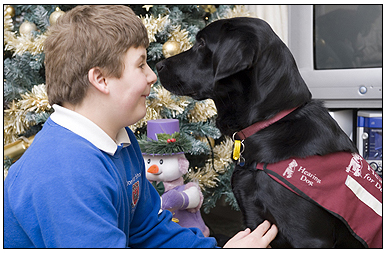 DEAF schoolboy Jason Warman has the perfect way to communicate with mum Michelle – sending her letters via his DOG.

And her favourite message from her 11-year-old son – who can neither hear nor speak – is a note to say he loves her.
Jason, whose letters are delivered by his loyal black Labrador, Violet, is one of just eight children in the country to have their own hearing dog, provided by charity Hearing Dogs for Deaf People.
Now, whenever Michelle wants to speak to him, she puts a message in a purple cloth purse and gives it to Violet to carry in her mouth.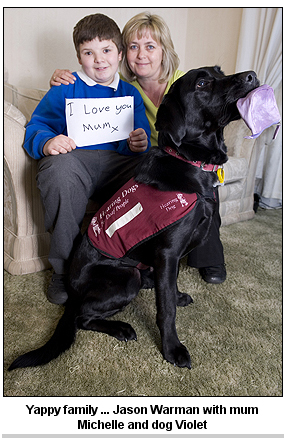 She says: "Most mums can just call upstairs to a child if they are in their bedroom, but Jason can't hear that.
"So I often write something like 'Dinner's ready' or 'Would you like a hot chocolate?'
"There's a little pencil in the purse, he writes his response and sends it back via Violet.
"Jason usually sends messages about ordinary things, but it's lovely to receive a note saying, 'I love you', it means so much."
Violet also alerts Jason to household sounds and fetches him for Michelle by nudging him with her nose.
If he is on his trampoline she will even jump on to tell him Mum wants him down.
Michelle, 42, from Hessle, East Yorks says: "I can't believe how much Violet has changed all our lives.
"Jason is definitely happier since she arrived. We can't imagine life without her."
Jason was diagnosed as profoundly deaf just after his first birthday.
Although he began to learn sign language at just 15 months old, being deaf made it hard for him to make friends.
So when Michelle was given a leaflet about a pilot scheme for hearing dogs for children, she signed up straight away.
She then took a training course at the charity's HQ in Buckinghamshire, along with daughter Amy, 14, and 51-year-old husband Martin Bell, who besides being Jason's stepdad is an audiologist who tests children for deafness.
Translate into 75 languages in ONE SINGLE CLICK. Chat with your foreigner friends and don't worry about the translation .. TRY IT FOR FREE
Tagged with:
DEAF Jason Warman
,
deaf dog
,
dog helps mut lad
,
Jason Warman
,
Jason Warman dog