Drinkers face late night 'alco-tax' and hike in price of alcopops under Tory plan to mend 'broken Britain
Published by admin on October 7, 2009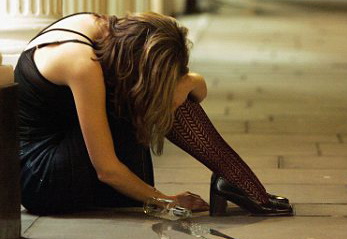 * Tax on off-licences and bars selling alcohol late at night
* £1.50 tax hike on alcopops and £1.33 on strong beer
* Ban on supermarkets selling alcohol below cost price
* Communities given right of veto over drink licences
Clampdown: The Tories will impose tax hikes on strong beer, cider and alcopops in a bid to rid Britain of anti-social behaviour and binge drinking
The lax Labour licensing regime which has turned town centres into 'battle zones' will be torn up, and new taxes will be introduced to clobber heavy drinkers and late opening off licences and pubs, Chris Grayling vowed today.
The shadow home secretary also promised a crack down on Britain's 'caution culture' and an immediate ban on the extremist group Hizb ut-Tahrir.
But the main focus of his speech was on the binge drinking and associated violence which has accompanied Labour's hugely controversial introduction of round the clock opening.
He said: 'Our town centres on a Friday and Saturday night can be battle zones for our police.'
Mr Grayling announced a new late night 'alco-tax' on shops selling drinks after 10.30pm and pubs and restaurants which remain open after midnight to pay for policing.
The level of the tax is yet to be set, and will be based on the venue's size, but the danger is that struggling pubs will simply pass on the extra cost to customers.
Drinkers who only visit during the day would have to pay more for their pint in order to meet the charges of the bar staying open late.
There would also be a ban on supermarkets and other shops selling alcohol below cost price as 'loss leaders'.
It will put an end to supermarket offers of cheap crates of beers and lagers and risks being unpopular with some consumers.
Tax rises will be implemented on certain drinks with £1.50 added for large bottles of alcopops and £1.33 on a four-pack of super-strength beer.
Most popular brands will be unaffected, although stronger continental beers not normally associated with problem drinking, such as Leffe, will see their price rise.
It will raise an extra £80million in taxes for the Treasury, though the Tories say they may use some of the money to help community pubs stay open.
There will be new council and police powers to limit late licences for shops and takeaways.
Mr Grayling said: 'We'll tear up this Government's lax licensing regime.'
Tough talk: Chris Grayling said the measures would not hit the ordinary pint
He also pointed to mounting public fury over the use of cautions for serious crimes, and said the yobs who drove Fiona Pilkington to take her own life and that of her daughter should be behind bars.
He said too many serious offenders were 'getting away with it' because police officers were 'too inclined to take the easy option'.
He promised a range of 'instant punishments', such as grounding offenders for  up to a month or making them do community work like cleaning up parks.
He pledged to get rid of the 'target culture that makes it easier to issue a caution than to prosecute'.
Mr Grayling also told the conference he would transform the UK's immigration system, which for 12 years had been a 'complete shambles'.
The Tories would be 'robust' in the way they controlled immigration. 'There will be no open door to Britain,' he said.
The Tories would set an annual cap on the number of people who could come  into Britain to live and work, a policy Labour has steadfastly resisted.
On security, Mr Grayling said Britain  was 'still not tough enough' on those who spread the doctrine of hate.
He promised to immediately ban Hizb ut-Tahrir and any other group that  'actively incited hatred and violence'.
This is likely to prove fraught with difficulty. Tony Blair threatened to ban the group as long ago as 2005 but Home Office officials say they do not have the evidence to proscribe the hardline organisation.
Christopher Day, Professor of Liver Medicine at the University of Newcastle said: 'I strongly support these targeted increases in alcohol tax.
'The strongest evidence based approach is to increase the price of problem drinks and reduce their availability. This has worked in countries across the world – and I'm in no doubt that it will work here in the UK too.
'The commitment to ban supermarkets from selling alcohol below cost price is also highly welcome, and will help tackle binge drinking across the country.'
In a separate move, shadow justice secretary Dominic Griev sad offenders will lose their right to have their identities protected by the Human Rights Act if they continue to commit crimes.
Police forces will also be encouraged to give out photographs of burglars, car thieves and other petty criminals.
Currently, those who commit minor crimes are allowed to keep their anonymity. The new policy will allow the return of large-scale 'wanted' posters to help track down suspects.
( Source : By James Slack, Home Affairs Editor – DailyMail )

Translate into 75 languages in ONE SINGLE CLICK. Chat with your foreigner friends and don't worry about the translation .. TRY IT FOR FREE
Tagged with:
britan alcohol drinker tax
,
Drinerks night 'alco-tax'
,
drinkers night tax
,
Drinkers pay night tax