Duke mocked blind hero
Published by onlines on December 13, 2009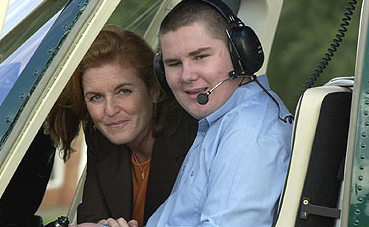 PRINCE Philip mocked a hero Army cadet blinded by a terrorist explosion by poking fun at his dress sense.
The Queen asked brave Stephen Menary how much sight he had left but before he could answer, the gaffe-prone Duke of Edinburgh joked: "Not a lot, judging by the tie he is wearing."
Hero … Stephen Menary with the Duchess of York in 2001
Menary was wearing a red, navy, and yellow striped tie when he met the Royals at London's Hyde Park. It is the uniform of the Middlesex and North West London Army Cadet Force.
Prince Philip's tasteless joke was met with an embarrassed silence all-round and Her Majesty gave her husband a disapproving glare.
Hero Stephen was just 14 when he picked up a torch bomb that was hurled into a Territorial Army barracks in White City, west London, by the Real IRA in 2001. He was almost blinded and his left hand was blown off.
Silence
His mum Carol, 48, said: "Prince Philip is completely out of touch with reality, he is from another world.
"There was a sharp intake of breath and myself and everyone around us reacted in disbelief. Even the Queen had a look of shock on her face as if to say 'why on Earth did you just say that?'
"Although I think there was no malice behind it, it was a tactless thing to say."
Carol said the Queen was "polite" and shook her son's hand before the Prince came out with his tie jibe.
Stephen did not hear what was said at the time but was shocked when his mum told him afterwards.
She added: "Prince Philip is well known for this sort of thing and I realise he didn't mean to be cruel but we could've been really offended."
Office worker Carol has remained silent about the jibe since her son met the Royals in 2002. But she spoke about it for the first time on The Graham Norton Show last week.
Stephen, from Sutton Coldfield, West Midlands, said: "I think Prince Philip was just trying to break the ice and put me at ease."
Translate into 75 languages in ONE SINGLE CLICK. Chat with your foreigner friends and don't worry about the translation .. TRY IT FOR FREE
Tagged with:
Duke moked blind hero
,
Duke of Edinburgh PRINCE Philip
,
PRINCE Philip mocked a hero
,
Stephen Menary