Cat dies after having a firework strapped to its back and lit
Published by Waleed Fakhroo on November 3, 2009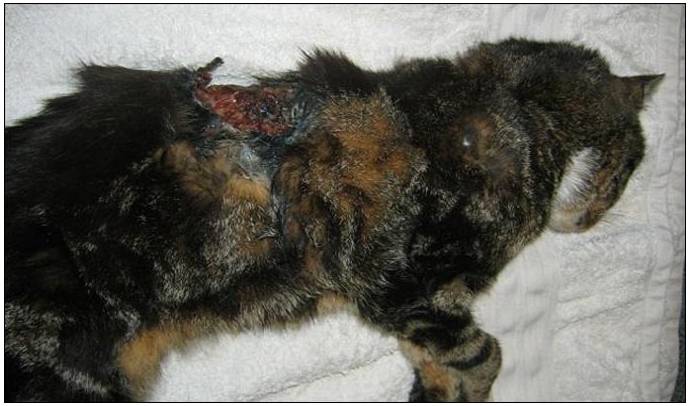 A TERRIFIED cat died after suffering terrible burns when thugs strapped a firework to her back and set it alight.
The moggy was discovered horrifically injured more than a week after the callous yobs struck.
Vets tried to save the distressed female tabby but were forced to put her down because her wounds were so bad.
It's thought a rocket was tied to her because of the pattern of the burns. Last night the Scottish SPCA were hunting the vicious louts responsible.
Kerry Miller, ambulance driver for the charity, said: "It's heartbreaking to see an animal in such a terrible state.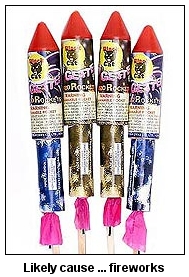 "If it was a firework that caused these injuries then we are dealing with a very serious crime.
"Why anyone would commit such a cruel and callous act on a defenceless little cat is beyond my understanding.
"I'm sure most people will be disgusted."
The cat was found at Dalduff Farm Shop at Crosshill, near Maybole, Ayrshire, on Thursday. Workers reported seeing the animal and Kerry arrived to take it to a vet.
Kerry said: "When I arrived it was clear she was in extreme distress. I rushed her to the vets but sadly she was unable to save her.
"The vet advised that she was likely to have had her injuries for up to a week due to the state of the wounds. She said this was likely to have been caused by a firework."
Although the cat was microchipped, the owners' details were not up to date and it has not been possible to trace them.
Anyone convicted of the cruelty could face a maximum prison sentence of 12 months, a £20,000 fine or both, as well as being banned from owning animals.
Scottish SPCA Animal Helpline 03000 999 999.
( source: thesun )
Translate into 75 languages in ONE SINGLE CLICK. Chat with your foreigner friends and don't worry about the translation .. TRY IT FOR FREE
Tagged with:
cat Crosshill
,
cat Dalduff Farm Shop
,
Firework cat
,
Firework thugs tie rocket to cat
,
moggy
,
moggy Firework
,
Thugs 'strapped Firework To Cat's Back'