How YOU doin'? Obama doesn't look too happy as 'sex-addict' Berlusconi eyes up First Lady Michelle
Published by admin on September 25, 2009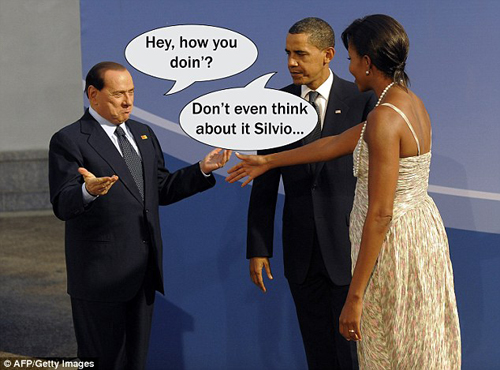 He is a notorious ladies' man and has spent the summer battling a series of sex scandals.
So when Silvio Berlusconi turned on the charm in the presence of Michelle Obama, it's no surprise the US president was instantly on his guard.
Attending a dinner for the wives of world leaders alone, the Italian prime minister looked thrilled as America's First Lady entered the room.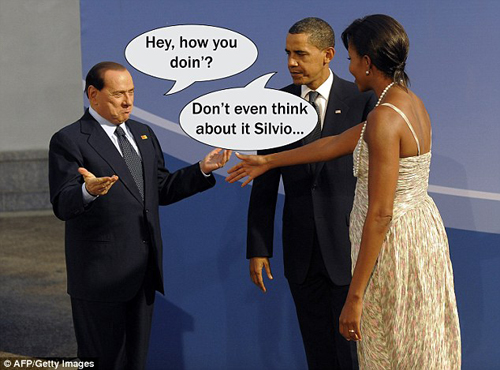 He threw his hands up in a delighted gesture, pulled a rather alarming expression and for several seconds, appeared to be contemplating taking Mrs Obama in a passionate embrace.
But a handshake  – and a filthy look from Obama – were all he got.
Perhaps it's hardly surprising as the Italian premier – whose wife is divorcing him – is still dealing with the fallout from a series of sordid allegations.
A string of high class call girls have claimed they were paid money to attend parties at his villas while two say they slept with him.
Then there were the allegations of an improper relationship with 18-year-old lingerie model Noemi Letiza who calls him 'Papi' or daddy.
As if this wasn't enough, his own aides have accused him of being a sex addict.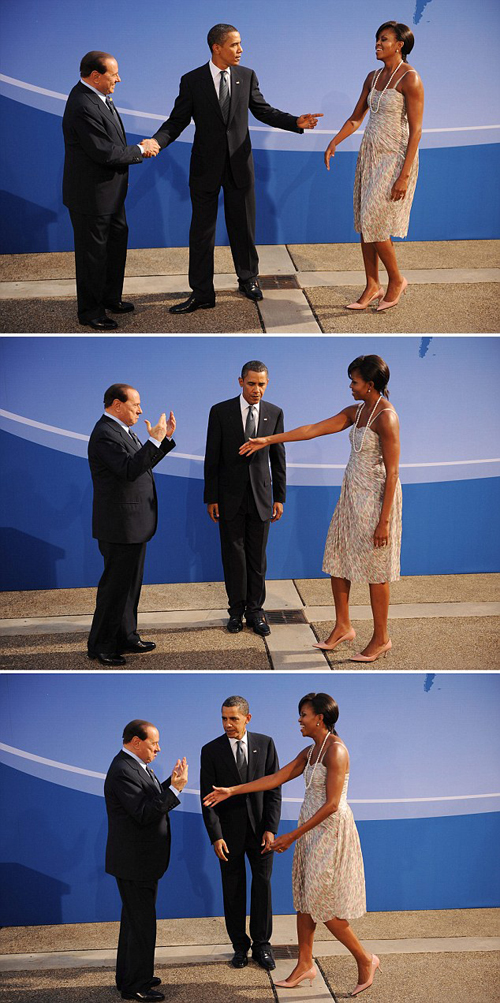 Greetings: Silvio Berlusconi shakes hands with Obama and then gestures towards Michelle before she extends her hand for a handshake
The Obamas and Berlusconi were at the dinner in  Pittsburgh last night on the eve of the G20 summit.
Gordon Brown grinned as he and his wife Sarah were pictured with the Obamas.
And it was Sarah who looked to be keeping the 'special relationship' between the U.S. and Britain alive as she was pictured tightly holding Mr Obama's hand.
Source: dailymail.co.uk
Translate into 75 languages in ONE SINGLE CLICK. Chat with your foreigner friends and don't worry about the translation .. TRY IT FOR FREE
Tagged with:
Michelle obama
,
obama
,
obama wife
,
Silvio Berlusconi