Muslim army major kills 13 and injures 31 in shootout with troops at U.S. military base
Published by admin on November 6, 2009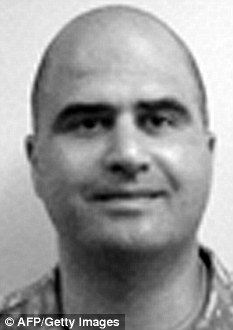 Twelve people have been killed and at least 31 wounded when a soldier with two guns went on a rampage at America's biggest military base.
The gunman, named as Major Nidal Malik Hasan, 39, was cut down by authorities at the Fort Hood base in Texas – but survived the shootout and is now in custody.
The Virginia-born soldier is a Muslim convert and furious over the invasion of Iraq and Afghanistan by U.S. and allied troops.
First reports said he had been killed but early this morning it was revealed that he had been wounded and was in a stable condition.
He was shot four times, and was on a ventilator and unconscious, according to military officials. 'I would say his death is not imminent,'  Lt. Gen. Bob Cone at Fort Hood said.
Lt Gen Cone said the shooting broke out at 1.30pm at the Soldier Readiness Centre.
Soldiers rushed to treat their injured colleagues by ripping their uniforms into makeshift bandages.
The mayhem and terror at the scene was so great that officials have not ruled out the possibility that some casualties may have been victims of 'friendly fire', shot by authorities amid the confusion, said a senior U.S. official who spoke on condition of anonymity.
Hasan is a psychiatrist employed at Fort Hood to counsel troops returning from active duty. He was due to be deployed to Iraq at the end of the year.
The shooting happened at a Soldier Readiness Facility on Fort Hood an area where servicemen leaving or returning from war duty are processed.
Army colleagues said Hasan, who is single and had no children, had fervently expressed his opposition to the war.
Retired Colonel Terry Lee who worked with the major said: 'He was so outspoken I once said to him, "Look, you got to cool it".
'He was reacting with open glee at the death of some soldiers by a suicide bomber. I told him, "You might not agree with this but this is the army and we are here to serve the country.'
Mr Lee said Hasan repeatedly stated: 'Muslims should rise up against the aggressors.'
Monica Cain, 44, breaks down in tears as she tries to contact her husband Sgt. Darren Cain who is stationed at Fort Hood
Sergeant Anthony Sills, right, comforts his wife at the Fort Hood army base where three U.S. soldiers opened fire
A swat team enters the main gate soon after the mass shooting
'He was very much against that and he was appealing through the channels for the deployment to be cancelled,' Mr Lee said.
Hasan's cousin Nader Hasan said the major had also served as a psychiatrist at the Walter Reed Army Medical Center in Washington D.C., which treats badly-wounded troops.
'He was a psychiatrist at Walter Reed dealing with the people coming back and… trying to help them with their trauma,' he said.
The cousin added that Hasan had been transferred to Fort Hood from Walter Reed about four months ago.
'We've known over the last five years that was probably his worst nightmare,' he said.
Hasan's profile on the Center for the Study of Traumatic Stress website
Emergency personnel carry a wounded person on a stretcher to an awaiting ambulance
Last night the FBI was assisting the military with the investigation into one of America's worst killings at an army base. Two soldiers who were apprehended as suspects were later released.
President Barack Obama described the incident as a 'horrific outburst of violence'.
'These are men and women who have made a selfless and courageous decision to risk and at some times lose their lives to protect the rest of us.
'It is difficult enough when we lose these brave Americans in battles overseas. It is horrifying that they should come under fire at an army base on American soil,' he said.
President Barack Obama says his prayers and thoughts are with the wounded and the families of the fallen
Daniel Clark hugs and comforts his wife Rachel Clark. The couple's daughter was in an elementary school on the base
A police officer and a soldier block the road at the main gate of the army base
Mr Obama said he didn't yet know all the details, but promised the government would get 'answers to every single question'.
Lt General Bob Cone said all of the fatalities and injuries happened in the 1.30pm shooting at the Soldier Readiness Centre.
'We have had a terrible tragedy. It's stunning and the soldiers and families who work here are absolutely devastated.'
He said the victims were gunned down as they were at the centre where soldiers  'preparing to deploy go for last-minute medical check-ups and dental treatment.'
George Stratton III and Amber Bahr (right) were both shot at Fort Hood
Lt General Cone said Hasan used two handguns in the attack. It was not clear if he had stopped to reload.
At the Soldier Readiness Centre, soldiers who are about to be deployed or who are returning undergo medical screening – on average about 300-400 screened a day, said Sergeant Rebecca Lampam.
She said a graduation ceremony for soldiers who finished college courses while deployed was also going on in the auditorium at the time of the shooting.
One of the injured was 19-year-old Amber Bahr, who was shot in the stomach but remains in a stable condition. 'We know nothing, just that she was shot in the belly,' said her mother Lisa Pfund.
Sgt. Fanuaee Vea (left) embraces Pvt. Savannah Green while trying to reach friends and family
Army Lt. Gen. Robert Cone speaks to the media after the mass shooting at Fort Hood army base in Texas
Covering 339 square miles, Fort Hood is the largest active duty armoured post in the world and home to about 52,000 troops.
The sprawling base, located halfway between Austin and Waco, was where Elvis Presley famously served part of his military service in the 1950s.
The base has lost more soldiers in Iraq and Afghanistan than any other military facility.
Special forces soldiers in training at Fort Hood as they prepare for Iraq (file picture)
At the Soldier Readiness Centre, soldiers who are about to be deployed or who are returning from war undergo medical screening (file picture)
This map shows the location of Ford Hood in the U.S.
Hospitals in the area were appealing for more blood last night to deal with the wounded.
Complaints have grown in recent years of the psychological damage suffered by soldiers on the base as a result of repeated tours of duty in Iraq and Afghanistan.
The base has seen other violence in recent years. In September 2008, a 21-year-old 1st Cavalry Division soldier Jody Wirawan shot his lieutenant Robert Bartlett dead and then killed himself.
( Source: dailymail )
Translate into 75 languages in ONE SINGLE CLICK. Chat with your foreigner friends and don't worry about the translation .. TRY IT FOR FREE
Tagged with:
Fort Hood base
,
Fort Hood Shooting Nidal Malik Hasan
,
gunman Nidal Malik Hasan
,
Major Nidal Hassan Palestinian
,
Major Nidal Malik Hasan
,
Nidal hassan kill 13