Man admits eight-hour sex attack
Published by onlines on October 14, 2009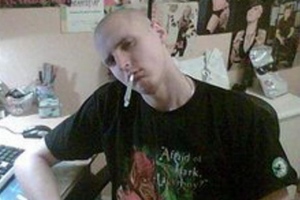 Rape beast: We should have killed our victim
A REMORSELESS sex beast who repeatedly raped a terrified woman he and his cousin dragged to a filthy drinking den strewn with porn said after releasing his victim: "We should have killed her."
Evil Michal Marchlewski, 21, and Tomasz Kryczyk, 26, raped the 24-year-old eight times between them during her eight-hour ordeal, a court heard yesterday.

The fiends eventually let her go but the court heard the following day Marchlewski turned up at Kryczk's home and told him: "We should have killed her by strangling her and then nobody would've known about it."
Polish monster Marchlewski is facing a life sentence after pleading guilty to the horror attack.
Kryczyk committed suicide while on remand in prison
His cousin committed suicide in jail before he could admit his role in a vile rape siege that insiders described as one of the worst ever in Edinburgh.
The High Court in the city heard how the victim, a foreign beautician who has since moved back overseas, feared the brutes would kill her.
Her ordeal began when Marchlewski and Kryczyk blasted her in the face with pepper spray as she walked through a pedestrian underpass at a cycle path beside the Fountainpark complex in broad daylight.
They then hauled her to the grubby makeshift shelter down an embankment nearby.
They threatened to kill her and callously joked and laughed as they repeatedly raped her.
In police statements read out in court, the victim said: "I was fearing for my life.
"I was grabbed twice on the jugular so I could not breathe and was suffocated to the point I blacked out.
"I was repeatedly choked throughout the sexual encounters.
"I had absolutely no idea what was going to happen to me. I had that fear of everything you've ever feared in your life is about to happen to you.
"I wasn't sure I was going to survive this until I was running down the road from them."
Prosecutor Andrew Miller said: "The woman recalls Kryczk raping her five or six times during the eight hours she was held by him and the accused. She recalls the accused raped her twice."
At one point the woman saw a shadow pass the shelter and tried to escape, shouting for help.
"She only got one step out of the shelter before a hand dragged her back inside," said Mr Miller.
After that she was too frightened to try again.
The victim added in her police statements: "I tried to gain their trust in a sick kind of way. I was trying to pretend like I didn't care. I really felt numb. It was like I was not there, almost like an out-of-body experience."
Mr Miller told the court that the woman's first reaction to being released was "some sort of euphoric high" at still being alive but "shock and sickness kicked in a couple of weeks later".
The pair were snared by DNA evidence and after the brave victim picked out Marchlewski in an ID parade.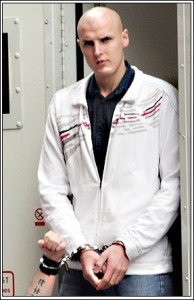 Marchlewski said he and Kryczk had bought 16 cans of lager and a bottle of vodka on the day of the rapes.
He said Kryczk wanted sex but had fallen out with his wife. They also wanted money for air fares back to Poland.
Marchlewski pleaded guilty to raping the woman in February this year. He also admitted assault to danger of life and robbery.
Kryczyk hanged himself in his prison cell just days before he was due to appear in court.
Judge Lord Bracadale warned Marchlewski, who came to Scotland in 2007 and will be sentenced later, he faces deportation at the end of his prison term.
The judge said: "This case reflects an extreme level of wickedness and afterwards you were her. ( Source: TheSun )
Translate into 75 languages in ONE SINGLE CLICK. Chat with your foreigner friends and don't worry about the translation .. TRY IT FOR FREE
Tagged with:
eight-hour sex attack
,
Marchlewski rape
,
Michal Marchlewski
,
Michal Marchlewski and Tomasz Kryczyk
,
Tomasz Kryczyk