Chinese Man builds stair-climbing wheelchair
Published by Waleed Fakhroo on November 17, 2009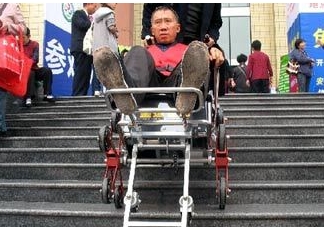 A Chinese pensioner sold his apartment to fund his dream of creating a wheelchair that can climb stairs.
Li Rongbiao, 67, of Beijing, came up with the idea after his wife, Wang Huifang, 65, broke her leg, reports West China City Daily.
"It used to take us a good half an hour to walk downstairs from our fifth floor apartment to the ground floor after her injury," he said.
"I realised that what she needed was an electric wheelchair that could go up and downstairs but such a thing didn't exist."
So, despite a complete lack of mechanical knowledge, Li sold his apartment for £44,000 to fund the project.
"I bought a lot of books, and used half a year to learn the computer designing, and then another half a year to design the wheelchair," he said.
With one charge, his foldable electric wheelchair can climb nearly 3,000 steps – the equivalent of 50 floors, he claims.
The prototype requires somebody to use minimal force to help manouevre it but Li says the next version will be able to climb stairs unaided.
He has already been awarded two patents for his invention and is now looking for partners to help him market it commercially.
Watch the related video ..
( source: ananova.com )
Translate into 75 languages in ONE SINGLE CLICK. Chat with your foreigner friends and don't worry about the translation .. TRY IT FOR FREE
Tagged with:
Beijing resident Li Rongbiao invent Chair
,
china wheelchair
,
China's "Walking Chair"
,
Chinese man inventstair climbing wheelchair
,
foldable electric wheelchair
,
Li Rongbiao Walking Chair
,
Li Rongbiao Wang Huifang
,
Retired innovator helps aged and disabled scale new heights
,
wheel chair that climb stairs