Miss Singapore 2009 resigns after Lingerie/CreditCard fraud
Published by admin on October 1, 2009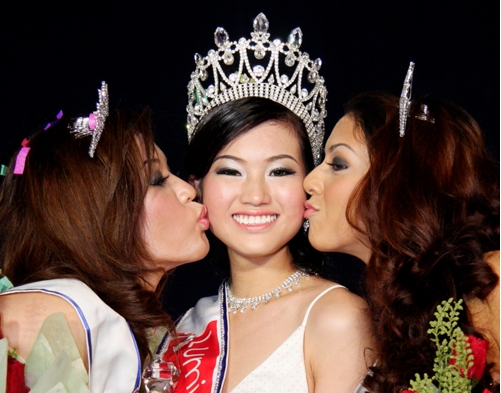 Beauty queen Miss Singapore World has given up her crown after it emerged that she had stolen credit cards to go on a shopping spree for lingerie. Ris Low had come under public pressure to be stripped of her 2009 title, after local media reported she stole seven credit cards last year while working at a medical clinic, buying goods worth about S$8,000 ($5,662) including gold anklets and phones.

Court documents show that Miss Low spent a total of more than $2,400 on at least four separate occasions, using at least three different credit cards in April and May last year.
She bought two gold anklets worth almost $1,000, a $698 mobile phone, and food and drinks at a swanky restaurant.
It is not known how she obtained the credit cards.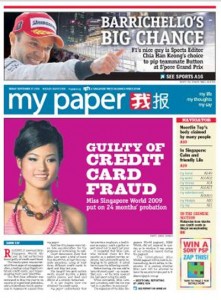 Organizers of the pageant ERM World Marketing said she had resigned Tuesday of her own accord. She will no longer represent Singapore at the Miss World finals to be held in South Africa in December, but her replacement has not yet been decided.
Ris Low had also been criticized for her poor English, mispronouncing "bikini" in a recent video, leading others in multicultural Singapore to spring to her defense and soul-searching on websites about the national character.
"If there was a beauty contest for countries, how do you think Singapore would fare on the world stage? We seem to have the aesthetic qualifications. But with a very ugly personality," said blogger Solofigure09 on the Straits Times newspaper's website. ( Source: Reutors – mypaper.sg )
Translate into 75 languages in ONE SINGLE CLICK. Chat with your foreigner friends and don't worry about the translation .. TRY IT FOR FREE
Tagged with:
Miss singapore
,
Miss singapore CC
,
Miss singapore steal
,
Miss singapore steal Credit Card
,
Ris Low Credit cards
,
Ris Low steal