Nigerian accused of attacking US passenger jet
Published by admin on December 27, 2009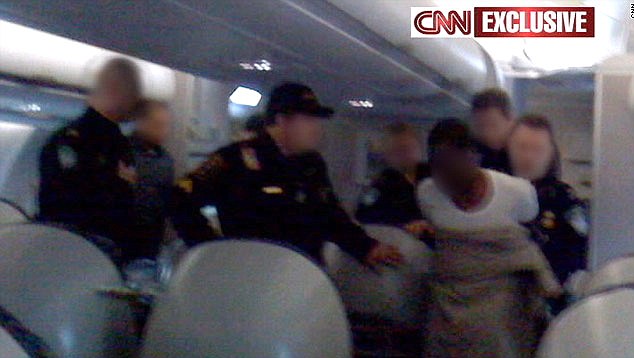 A Nigerian man has been charged with attempting to destroy a plane after he allegedly tried to detonate a bomb on a passenger jet arriving in the US.

Umar Farouk Abdulmutallab, 23, was overpowered by passengers and crew shortly before the Northwest Airlines plane landed in Detroit from Amsterdam.
The US says the bomb consisted of a high explosive and a syringe.
A judge told Mr Abdulmutallab of the charges at a Michigan hospital where he is being treated for injuries.
He was formally charged with attempting to destroy the plane and with placing a destructive device on the aircraft.
US District Judge Paul Borman read Mr Abdulmutallab his charges in a conference room at the University of Michigan Medical Center in Ann Arbor.
Agents had brought the detainee into the room in a wheelchair, dressed in a green hospital robe and with a blanket over his lap.
Asked whether he understood the charges against him, he responded in English "Yes, I do", the Associated Press reports.
Dutch authorities earlier confirmed that Mr Abdulmutallab had flown from Lagos to Amsterdam, before changing planes to Detroit.
The Department of Justice alleges that when he boarded the plane in the Netherlands he had "a device attached to his body".
It said a preliminary FBI analysis found that the device contained PETN, also known as pentaerythritol, a high explosive.
All the passengers and crew of Flight 253 were interviewed by investigators.
Mr Abdulmutallab went to the bathroom for about 20 minutes before the incident, court documents say.
When he got back to his seat, he said he had an upset stomach and he pulled a blanket over himself, the affidavit continues.
"Passengers then heard popping noises similar to firecrackers, smelled an odour, and some observed Abdulmutallab's pants, leg and the wall of the airplane on fire," the Department of Justice said in a statement.
Blankets and fire extinguishers were used to douse the flames.
"Passengers reported that Abdulmutallab was calm and lucid throughout. One flight attendant asked him what he had had in his pocket, and he replied 'explosive device'," the statement continued.
'Explosives in underwear'
Mr Abdulmutallab reportedly told investigators he had links to al-Qaeda and had received the explosives in Yemen.
US network ABC is reporting that Mr Abdulmutallab has apparently given investigators detailed information about his month-long training by al-Qaeda.
The explosives were sewn into his underwear in Yemen, ABC reported, for what was supposed to be a suicide attack.
Nigeria has ordered its security agencies to investigate the incident and said they will "co-operate fully" with the US investigations.
Members of a wealthy Nigerian family have confirmed to journalists that he is the son of the former chairman of First Bank of Nigeria, the BBC's Caroline Duffield reports from Lagos.
The Dutch counter-terrorism agency NCTB said the suspect boarded a KLM flight from Lagos to Amsterdam's Schipol airport, then connected to the Northwest Airlines flight to Detroit.
A preliminary investigation found that security procedures were followed correctly, and the man had a valid US visa.
The NCTB said in a statement it could not rule out the potential for dangerous items to pass through security, especially objects that current security technology cannot detect.
Meanwhile, police in London are searching a house where Mr Abdulmutallab is thought to have lived.
University College London said it had a student with a similar name enrolled on a mechanical engineering course until mid-2008, but could not confirm whether this was the same person being questioned by US authorities.
'Unpredictable measures'
Dutch passenger Jasper Schuringa, 32, who was sitting on the opposite side of the plane to the man, said he did not hesitate to act when he realised something was not right.
"Suddenly we heard a bang and then there was smoke and fire and I just knew this is a terrorist attack.
"I didn't hesitate a moment, just wanted to stop it with whatever I can do."
The suspect's name was in a database indicating "a significant terrorist connection" although it did not appear on a "no-fly" list, said New York congressman Peter King, a member of the US House of Representatives Homeland Security Committee.
US President Barack Obama, on holiday in Hawaii, has ordered increased security for air travel.
The US Department of Homeland Security said "additional screening measures" had been put into effect since the incident.
"These measures are designed to be unpredictable, so passengers should not expect to see the same thing everywhere," Homeland Secretary Janet Napolitano said.
Air Canada announced that passengers on flights to the US would not be able to leave their seats in the final hour of flight, nor have access to cabin luggage at that time.
Translate into 75 languages in ONE SINGLE CLICK. Chat with your foreigner friends and don't worry about the translation .. TRY IT FOR FREE
Tagged with:
al-Qaeda
,
Jasper Schuringa
,
Nigerian Attack US Plane
,
Nigerian Qaeda
,
Northwest Airlines
,
Passenger detains plane terror suspect
,
Umar Farouk Abdulmutallab
,
Umar Farouk Abdulmutallab Plane
,
Umar Farouk Abdulmutallab Qaeda