Police 'handcuff' bull
Published by Waleed Fakhroo on December 26, 2009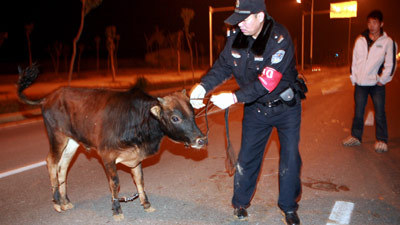 Police in China handcuffed a runaway bull that was causing chaos through city center streets.

The bull caused traffic chaos in Liuzhou, in southern China's Guangxi province, reports IC Media.
Pedestrians ran for their lives as the bewildered animal charged through shopping areas.
After more than two hours of chasing the terrified animal around the city, police finally managed to catch it.
With the help of passers-by, they managed to restrain the animal – and cuff its front legs to prevent it hurting itself.
"It kept struggling to get away again so we had to cuff it to stop it struggling," said a police spokesman.
Translate into 75 languages in ONE SINGLE CLICK. Chat with your foreigner friends and don't worry about the translation .. TRY IT FOR FREE
Tagged with:
bull caused traffic chaos in Liuzhou
,
police handcuffed bull