Ric Flair left fellow wrestling legend Hulk Hogan a bloody mess as the pair kicked off their tour of Australia
Published by Waleed Fakhroo on November 19, 2009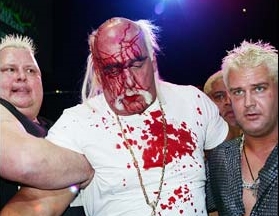 Hulk horror
HULK HOGAN is left a bloody mess by fellow wrestling legend Ric Flair, as the pair kick off their tour of Australia.
In a staged fight – known as a 'work' among wrestling fans – 60-year-old Flair busted open the Hulkster, 56, with a flurry of punches after the two traded insults about their failed love lives.
It is thought former WWE world champion Hogan cut himself to start a flow of blood, which then ended up all over his face and white T-shirt. The stunt is known as 'blading'.
News outlets in Australia were unsure what to make of the incident, with many of them reporting it as a serious bust-up.
The two icons of the wrestling business – who have held 28 world championships between them – are headlining the HulkaMania: Let The Battle Begin tour Down Under.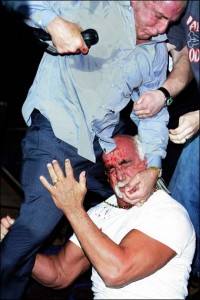 The match-up between the pair, who have previously feuded in WWE and WCW, is eagerly anticipated.
It is the first time Hogan has wrestled in Australia during his 32-year career and Flair's first bout since he 'retired' at WrestleMania 24 in March 2008.
Hulk – who recently divorced wife Linda – said: "The fans here have stuck with me through the highs and lows."In the last couple of years my personal life got flipped upside-down and the fans stayed with me through everything, so what better place to start over than right here."Ric – who last week got married for the fourth time – said of the match: "Two guys are going to walk down that aisle.
"One will walk back. I've never, ever not made it back down that aisle."
Others on the tour include former WWE superstars Rikishi, The Nasty Boys, Umaga, Mr Kennedy, Val Venis and Brutus 'The Barber' Beefcake.
After the Aussie shows Hogan will join TNA Wrestling in America.
Watch the Related video below:
Translate into 75 languages in ONE SINGLE CLICK. Chat with your foreigner friends and don't worry about the translation .. TRY IT FOR FREE
Tagged with:
bloody HULK HOGAN
,
Hulk Hogan
,
HULK HOGAN divorce Linda
,
HULK HOGAN Ric Flair Australia
,
Ric Flair and HULK HOGAN Fight
,
Ric Flair and HULK HOGAN bust-up
,
Ric Flair attacks and Bloodied Hulk Hogan at australian press conference
,
Ric Flair Bloodies Hulk Hogan At Press Event
,
WWE Superstar Hulk Hogan