Sex slave sold for £3k on London's Oxford Street
Published by onlines on December 7, 2009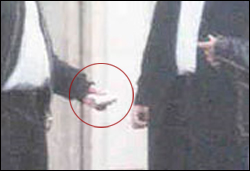 VILE pimps strike a deal on Britain's busiest shopping street – to sell a woman as a sex slave.
The shocking police surveillance photo shows one Albanian coolly handing £3,000 in cash to two others outside Selfridges on London's Oxford Street.
The "merchandise", a Lithuanian girl in her 20s, stands to the left, helplessly watching the deal. She is a prisoner, guarded by another thug just out of the picture.
She would have been expected to earn her new owner £100,000 a year by having sex up to 25 times a day in a brothel.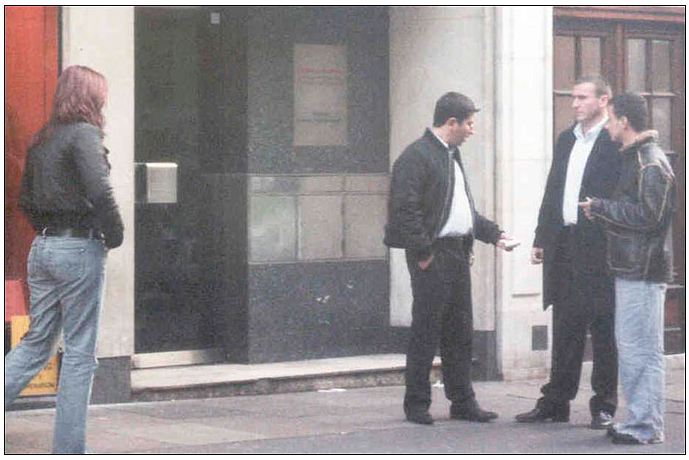 Sick … girl being sold stands on the left as Gazmet Turku hands over cash to sellers Agran Demarku, far right and Izzet Fejzullahu
But she was lucky. Cops swooped to free her – and a gang of Albanian people traffickers were all jailed for a total of 63 years.
Many other girls are not so fortunate. The Home Office estimated that in 2003, 4,000 women were trafficked into the UK for prostitution.
Some came willingly, but others were tricked here with the promise of jobs, then held captive and forced to work as sex slaves.
Worryingly, senior officers fear the numbers of East Europeans being trafficked is growing steeply as London prepares to host the Olympic Games in 2012.
Police released the photo on this page for the first time to raise awareness of the evil trade. Detective Chief Superintendent Richard Martin, of the Metropolitan Police Clubs and Vice Unit, said: "The man to the left in the picture has £3,000 in cash in his hand, with which he is buying a human being.
"She is just a commodity to them. She is an item for selling sex.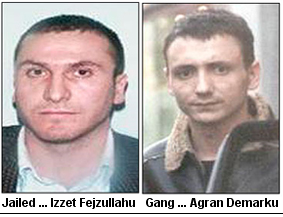 "The man is buying the girl for his own brothel from the men to his right, who ran a network of nine brothels. He is simply replenishing his stock, as a shopkeeper would. These women are put into slavery and exploited in the vilest way."
A rise in vice activity has been detected in the five Olympic boroughs of Newham, Hackney, Tower Hamlets, Waltham Forest and Greenwich to cater for demand from 25,000 construction workers.
A special police squad has been set up to tackle vice barons cashing in on the Olympics.
Officers are visiting ex-Eastern bloc countries to warn girls not to be tricked into coming to Britain.
Translate into 75 languages in ONE SINGLE CLICK. Chat with your foreigner friends and don't worry about the translation .. TRY IT FOR FREE
Tagged with:
Agran Demarku
,
Det Chief Supt Martin
,
dirty sex slave at your service oxford
,
Gazmet Turku
,
Gazmet Turku buy Lithuanian girl as sex slave
,
Human traffickers sell sex slave on Britain's busiest street
,
Izzet Fejzullahu sex slave
,
Lithuanian girl sold as sex slave in oxford street
,
selling sex slave
,
sex slave London
,
sex slave Oxford
,
Sex slave sold for £3k on Oxford Street
,
UK sex slave trading