Shamed boxer Prince Naseem Hamed eats his way into the heavy-weight category
Published by onlines on October 20, 2009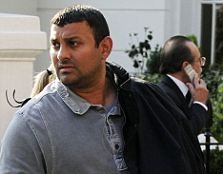 It seems that weigh-ins are a thing of the past for former boxing champion Prince Naseem Hamed.
The one-time WBA feather-weight World Champion has piled on the pounds since being jailed for causing a horrific road accident four years ago.
Bloated and puffy, the once celebrated sports star was spotted shopping with his family at  Harrods department store in London.
Naseem Hamed
Translate into 75 languages in ONE SINGLE CLICK. Chat with your foreigner friends and don't worry about the translation .. TRY IT FOR FREE
Tagged with:
boxer Naseem Hamed fat
,
boxer Prince Naseem Hamed
,
boxer Prince Naseem Hamed FAT
,
Naseem Hamed FAT