Underwear thief pleads guilty to knicker nicking
Published by onlines on January 13, 2010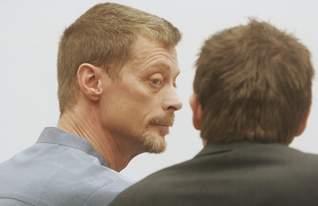 A thief who was caught while wearing nothing but his female neighbour's underwear has pleaded guilty to burglary.

Lingerie robber 48-year-old Randall J. Giesbers was sentenced to three years probation by Marion County Judge Albin Norblad on Monday, after admitting three counts of burglary.
The prosecution had sought a four-year prison sentence for his crimes, noting that the victim had her 'intimate items' repeatedly stolen from her Salem, Oregon home for a year before Giesbers' August arrest.
Giesbers was caught in his neighbour's garage, wearing only the woman's underwear, after the woman and her boyfriend interrupted him during a burglary.
Police later found several large bags filled with women's clothing, underwear, shoes and accessories in his garage.
The Statesman Journal newspaper reports that Giesbers apologized in court on Monday to his family and his victim.
Defence attorney Jason Thompson said that his client has been living away from his family's home and will continue to stay away for now.
Translate into 75 languages in ONE SINGLE CLICK. Chat with your foreigner friends and don't worry about the translation .. TRY IT FOR FREE
Tagged with:
Burglar
,
Giesbers
,
Judge Albin Norblad
,
knickers thief
,
Lingerie robber
,
Man found only in neighbor's underwear pleads 'guilty'
,
man sentenced in clothing burglaries
,
Panty thief sentenced
,
Randall J. Giesbers underwear robber
,
underwear
,
underwear thief