Snake fight: villagers in Thailand stage battles with king cobras
Published by Marina Perova on December 18, 2009
THIS daredevil catches a king cobra in his gob as he takes part in the dangerous sport of SNAKE BOXING.
It sees fighters taunt the poisonous reptiles close up then dodge their deadly strikes.
The self-styled King Cobra Village of Ban Khok Sa-Nga hosts regular snake boxing matches, where handlers taunt snakes in face-to-face battles.
The strange custom of fighting snakes began when a herb farmer started the fights to attract customers. Stars like Khunsan show off to impress crowds at a club in Ban Khok Sa-Nga, Thailand.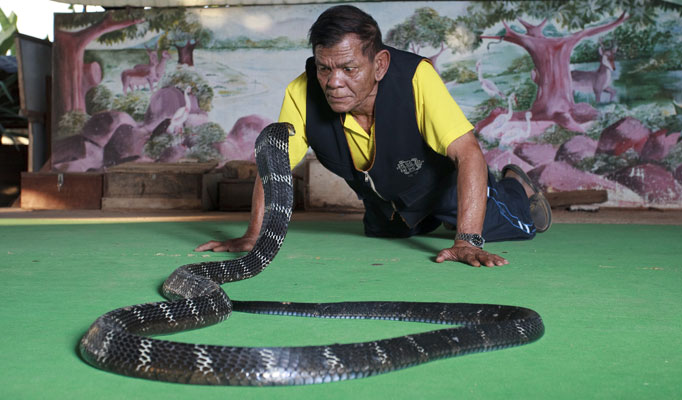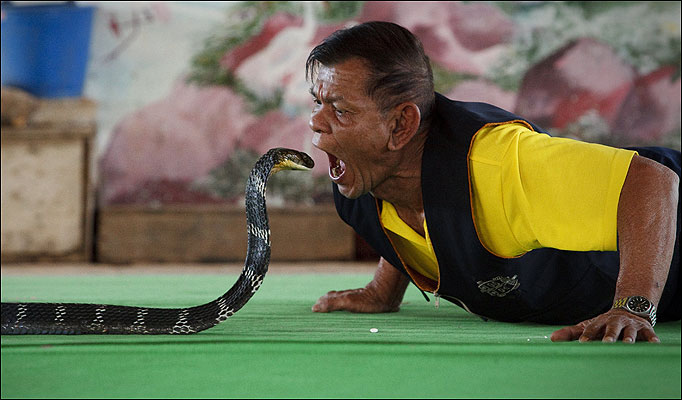 King cobras are common in Thailand and many families keep them in boxes under their houses.
The deadly reptiles can often be seen slithering across the dusty streets when they are not being provoked into fighting.
Villagers proudly point out that they no longer keep chickens and ducks in their houses as the snakes tend to kill other livestock.
with no doctor or pharmacy nearby, herbal medicines produced by mixing crushed leaves and lemon juice are the only treatment for those unlucky enough to get bitten. Three villagers died last year alone in organised snake fights.
The king cobras venom paralyses its victims nervous system, normally killing a man within 15 minutes.
The bites are even venemous enough to kill elephants.
Adding to the danger of snake boxing, men can only prove their honour by fighting the snakes on their own ground.
Tools or weapons are banned and the more provocative or dangerous the fight the more the demanding crowd likes it.
Translate into 75 languages in ONE SINGLE CLICK. Chat with your foreigner friends and don't worry about the translation .. TRY IT FOR FREE
Tagged with:
Cobra Boxing King Cobra Village of Ban Khok Sa-Nga
,
Khunsan
,
Khunsan Cobra Thailand
,
King Cobra Village of Ban Khok Sa-Nga
,
SNAKE BOXING
,
snake boxing matches
,
sport of SNAKE BOXING
,
Thailand snake boxing matches
,
Villager catches cobra snake in his MOUTH