Wal-Mart offers cut-price coffins (no returns allowed)
Published by onlines on November 1, 2009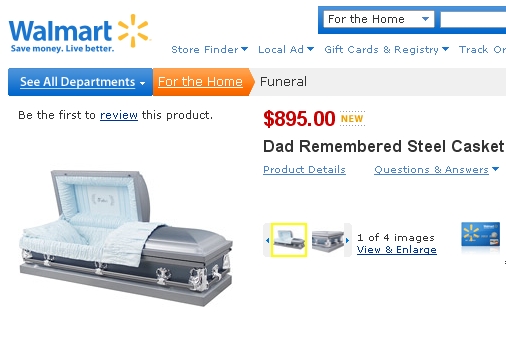 The 'Dad Remembered' steel coffin costs $895 (£541), while the 'Sienna Bronze' option is priced at $2,899 (£1,754).
Superstore chain could threaten traditional funeral directors, but industry insists it cannot compete on personal service
Wal-Mart moves into the funeral business with $895 steel caskets Superstore chain could threaten traditional funeral directors, but industry insists it cannot compete on personal service Being dead in America is about to get a lot less expensive.
Wal-Mart, the giant out-of-town superstore chain, is moving into the funeral service business, offering steel caskets for as little as $895 (£540).
At the higher end, customers will be able to purchase a luxury bronze casket for $2,899. The company will also sell urns for as little as $30.
For America's funeral directors, who had assumed that they were in a recession-proof business, the news is not good. When Wal-Mart moves into a new market, smaller businesses that cannot compete with its vast buying power often struggle to survive.
Still, Wal-Mart does not appear to have any plans to become involved in burials or cremations — yet. Instead, its coffins can be delivered to the funeral home of the customer's choice within 48 hours for a $99 fee. And no, returns will not be accepted. Under federal law, all funeral homes must accept coffins bought from elsewhere.
Those who make a living from the funeral industry were putting a brave face on Wal-Mart's decision yesterday.
"I invite it, I wish them well," Coy Gremillion, the owner of Magnolia Funeral Home in Alexandria, Louisiana, told his local newspaper, The Town Talk.
"But I really don't think it's going to work." When someone died, most families felt they needed a casket immediately, he said.
Mr Gremillion also predicted other problems. "You have to be there waiting for the FedEx man," he said.
"And what if your casket shows up and it's damaged? What if it doesn't show up? What if the body doesn't fit? Does a family want to go through all that at a time of death? It's too hard to make it all work. And in the end you might save $200. Do you really want to do all that for $200?"
Pat Lynch, president-elect of the National Funeral Home Directors Association, claimed that the prices aren't much cheaper than those at funeral homes.
He added that customers would miss the personal touch of a funeral director if they ordered coffins online.
"There's no question in my mind as a funeral director for more than 40 years that the most critical element is the human contact," he said.
A spokesman for Wal-Mart said that the new line of products — which is already available on the internet and will ultimately sit in stores alongside baby equipment and engagement rings — was a "limited beta test to understand customer response".
But many analysts are already convinced that Americans will jump at the chance to make death a bit more affordable, especially in these troubled economic times. At present, it is not uncommon for funeral prices to exceed $10,000.
The US funeral service industry generates $11 billion in revenue a year, according to the National Funeral Directors Association. And the business keeps getting more lucrative every year: by 2020, the annual US death rate per thousand is expected to have risen by 16 per cent from 8 to 9.3.
Translate into 75 languages in ONE SINGLE CLICK. Chat with your foreigner friends and don't worry about the translation .. TRY IT FOR FREE
Tagged with:
Sienna Bronze WAl-Mart Coffins
,
Wal-Mart coffins
,
Wal-Mart urns
,
Walmart cheap cuffins
,
Wamart coffins