Woman Shot By Police
Published by onlines on October 15, 2009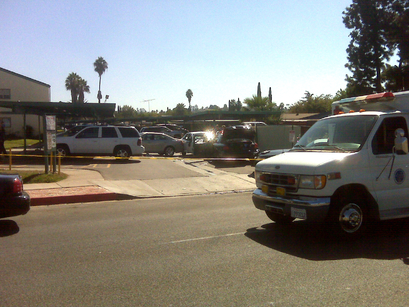 A hysterical woman claiming to be the mother of a woman shot by a police officer — who officials confirm is dead — said her daughter was helping police apprehend a suspected car thief.
The woman at the scene, Janet Favreau, was seen screaming at officers at the scene for not giving her any information.
"The person at our house had a stolen vehicle," Favreau said later. "She called them; she told them it was stolen. She walked him away from the house. She wanted him arrested, so she got in the car and came out here. She got him out here. They were supposed to pull him over and arrest him, but instead they shot and killed her."
An Escondido Police Department representative could not confirm any information other than to say a uniformed officer and plain-clothed detective were involved in the incident. He also said officers performed CPR on a victim at the scene before she was transported to Palomar Hospital. Officials at the medical center confirmed that Favreau's daughter had, in fact, died.
Favreau said her daughter is 31 years old and the mother of a 9-year-old girl.
The Escondido police officer opened fire at about 11:30 a.m. in a parking lot driveway at the Pepperwood Meadows Apartment complex on the 1800 block of East Grand Avenue. An Escondido police vehicle was still in the driveway hours later, smashed head-on into a white sedan after an apparent slow-speed collision. Another vehicle had been backed into the white car.
A police representative said a man at the scene was arrested and that the victim was shot while still in the car. It's not yet clear what charges the man may be facing. ( nbcsandiego.com )
Translate into 75 languages in ONE SINGLE CLICK. Chat with your foreigner friends and don't worry about the translation .. TRY IT FOR FREE
Tagged with:
Favreau shot police
,
Janet Favreau police
,
Janet Favreau shot
,
woman shot by police